Be on the #1 page of the google with the best Pay Per Click Agency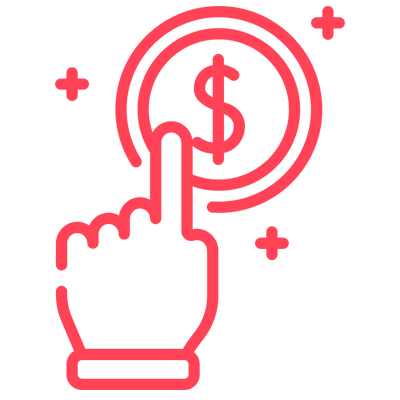 In this digital world, there are myriad ways of increasing your online reach, and Pay-per-click (PPC) is one of the best and guaranteed ways to widen your scope.
NR's PPC Management Service Team is well versed in the nuances of search engine advertisement, a play of keywords and using the PPC service to increase visibility of your website and ensure visitors.
Our team is one of the few and leading names in Delhi NCR that offers a holistic PPC Management Service.
Let's rank you number #01 and grab the lead
Pay per click (PPC), is an effective method for driving targeted traffic to a website. PPC ads are small advertisements that are displayed on the right hand side of search engine results pages. In recent years PPC advertising has grown in popularity because it is a very cost efficient way to attract web site visitors. The benefit to pay per click advertising is the potential to bring substantial profits to a company. There are several important advantages and disadvantages to consider.
Advantages of PPC Advertising
You are able to target a specific audience for your business. 
PPC campaigns are not focused on gathering traffic to a website. 
PPC campaigns are typically customer focused and are designed to give your company a personal touch.
PPC campaigns will usually contain product-specific or service-specific ads.
PPC advertising tends to give a more personalized feel to the ads.
 Many companies who use PPC advertising have found that their customers respond better to this personal touch.
Advertisers have greater control over where their advertisement continue reading.
 Most people prefer to read their advertisements on the right hand side of the results page. If you choose to display PPC on the left hand side of the page PPC may not be the best choice for your audience.
How PPC advertisment works?
When someone clicks on your PPC ads you will be charged a small fee. PPC advertising is generally displayed on sponsored search results. In order to successfully promote your site with PPC ads, you will need to create and maintain several ad groups. Ad groups are like mini advertisements that are designed to attract one another.
PPC advertising offers great advantages over traditional advertising methods. Your advertisement will appear on the right hand side of search results, which ensures that your audience is always aware of what is happening with their favorite products or services.
Your PPC campaign will also display to the audience across the world. You can target specific groups of people or you can target the entire population. Because PPC campaigns are focused and tailored toward your specific audience you will see dramatic increases in traffic, conversions, and sales.
How about Pay Per Click Agency?
If you are planning to launch a website soon or already have it and want to increase your online visibility and sales or want to generate business leads, then it is time that you get a PPC agency.
Our PPC management agency in Delhi consists of a team of experts who are masters in developing, testing and managing paid advertisements on a number of prominent digital marketing platforms.
In fact, if you want to increase your online visibility, then you should definitely get one from a reputable agency. We have a great reputation in Digital Marketing. 
Qe will be presenting you with some of the most important reasons why you should get a PPC agency and what they are capable of for your online business.
First of all, PPC is an effective advertising method. It takes time to place the ads in front of your target audiences. This gives your competitor's enough time to formulate their online strategies and see what moves they could make to dominate the market.
You have to stay ahead of the game if you want to keep your customers satisfied and return back to your website.
But since pay per click advertising is very effective and takes less time to set up, you won't have any worries about setting up the ads quickly. All you need to do is to make sure that your website is featured in the search results at a very frequent interval.
Second of all, PPC is a great source of qualified leads. As your visitors make clicks to reach your landing page, you will be automatically generating qualified leads because every click equals to a lead.
However, you may encounter certain visitors that will not be interested in your products or services.
To lure these people into buying your products or signing up for your services, you have to make sure that they have reached your landing page through a properly optimized PPC campaign.
These leads are very crucial because every qualified lead is worth $1. That means if you can get 10 qualified leads for every 1000 visitors that came to your site, you will be able to earn back that investment in just a short period of time.
Another advantage of employing a Digital Marketing company is that you don't have to worry about tracking the ROI.
The Digital marketing agency will provide you reports on the number of leads and clicks generated from each PPC ad placement.
With this information, you will be able to track the ROI of your PPC campaign.
A PPC agency will also ensure that the landing pages are optimized to target the right keywords. And because of this, you will be assured that only the targeted leads will be generated.
In addition to the above-mentioned advantages, there are still more benefits that you can avail when you hire a good PPC agency.
These agencies can provide you with expert advice that will help you determine which campaign would work best depending on your current market position and your desired goals.
They can also help you create a comprehensive marketing plan that will serve as your guide when you run an advertising campaign.
Most Pay Per Click agency today offer a wide range of services, including paid advertising platforms such as Google AdWords and Yahoo Search Marketing (previously Overture).
Aside from this, they can also provide you with social media marketing solutions, web design and development, link building, and email marketing campaigns.
With their help, you can also maximize your online presence by optimizing your website, blog, and even social networking profiles.
Through this, you will not only draw more traffic to your site but also improve your search engine ranking and generate more business leads.
A PPC agency can prove to be a very helpful partner in achieving your online business goals.
You simply have to find one that can provide you with effective marketing strategies and tools.
It is important for you to make sure that the one you hire has professionals who know how to create successful campaigns so that you will be able to realize positive results soon.
This way, you will be able to attract more traffic and achieve more profits for your business soon enough.
Frequently Asked Questions
Basic PPC Plan
Quarterly based
Rs. 4500-7000 /month ad spend (paid to networks)

Up to 150 keywords targeted

Upto 15-20 leads (may vary)
Aggresive PPC Plan
Quarterly based
Rs. 19,000-21,000 /month ad spend (paid to networks)

Up to 250 keywords targeted

Upto 25-50 leads (may vary)
Trail PPC Plan
Monthly based
Rs. 4500-7000 /month ad spend (paid to networks)

Up to 50 keywords targeted

Upto 5-10 leads (may vary)
NR Creative Designs has done a remarkable job. Creative, Punctual, Quality and Cost efficient. We had great experienced. Best for both B2B and B2C.
Col. Prithvi Nath
NAREDCO Haryana
Positive: Professionalism, Quality, Responsiveness, Value Very creative team, nice support for my marketing requirements. C.y.Aasife Managing director Aasife Biriyani
C. Y. Aasife
Aasife Biriyani
NR Creative Design has superb designing and creativity skills and team here is very co-operative, very responsive and delivers more then our expectations.
Manika Khatri
Cafe27